Snow, snow and more snow.. Its been snowing again last night and this morning and now its turned to that crappy slushy stuff with more forecast for tonight! I'm getting cabin fever from being in so much. My eye- concealer is completely emptytoo and i can't get to the shops to get it, so its au natural on the eye-bags front, lol, sorry about that!
Neo has been a bit poorly too today so its been cuddles on the sofa with extra TV time and lots of movies… we've had Cars, Fox and the Hound and i introduced him to my personal favourite; The Little mermaid, He tells me off though whenever i sing along (the little mermaid has the best sing a long songs..ever!!) apparently even at 2 and a half he thinks his mother is embarrassing…. not cool.
After all your comments from you lovely concerned readers on my last post in heels i thought i'd show you some wellies! These are my MEL wellies that i've had a year or so, just sat in the bottom of the abyss that is the shoe chest in my house. I completely forgot about them! so thanks to you lovely lot it made me remember them and pull them out of storage. I'm sure, being British and all, they will get a lot of wear!!
I am really loving purple and red, a combo i wouldn't have thought of if it wasn't for blogging. That's the good thing about the blogasphere, inspiration is all around. Its truly wonderful! And of course the fleeced lined amazing tights were back on today…oh yes ladies.. best invention ever!! (British ladies, these are from Primark for a few quid)
Holly REALLY likes the white slushy stuff!
Dress: Dorothy Perkins
Cardi & Scarf: Tesco
Tights: Primark
MEL Wellies: Very
All really old
Head to tippee toe another really old outfit. I had this dress when i was pregnant 3 years ago and all the other bits are from years gone by. This cabin fever of being stuck in doors with the snow is making me wanna shop and break my no spend…:-/ Seriously want a little fix hahaha! So instead of breaking my no spend i have been thinking of potential forthcoming events ie. valentines day and my anniversary. Now for a 3rd wedding anniversary tradition says to give leather. But i'm not one for strict traditions (or a big leather type person) but it did get me thinking along the lines of a nice bag… (you see where im going with this,haha!) I stumbled across this beautiful blue bag that is a great size and colour. I'm trying to weed out a lot of my crappy bags as i have a lot, and replace and keep just 3-4 really nice practical bags. The blue Ted Baker ticks all the boxes for me. But then this impractical but stunningly sweet little bag struck a big cord in my bag loving heart.
But the million dollar question ladies is:
Practical and pretty bag or cute small bag?
(yes i have waaay to much time on my hands thanks to this snow!)
Think i'll be sending links to Hubby with a message in the Subject line of: URGENT! haha! Gentle hints, yer know, gently gently catchy monkey (or bag as the case may be;-)
So me and my wellies are off for now…. Hope you're staying safe and warm this week lovelies!
Ciao for now!
xxxxx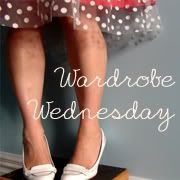 href
=http://www.
becauseshannasaidso
.
blogspot
.com/><
img
border="0″
src
="http://i70.
photobucket
.com/albums/i96/smk053078/
RandomWed
-1.
jpg
"/.